*This is a bulk product and prices are shown per kilo, bottle not included.
Gentle & suitable for most sensitive skin types, leaves your skin feeling clean without stripping natural oils and upsetting the natural pH balance.
Use with a loofah, flannel or body brush to massage into your body & for a better luxurious foam and all over lather.
Benefits of turmeric & fenugreek to stimulate circulation & act as an anti inflammatory.
Ingredients
Purified Water, Coconut Betaine*, Coconut Oil Acids*, Sodium Cocoyl Glycinate*, Fatty Acid Isethionate Sodium Salt* (Based on Coconut Fatty Acid),Tocopheryl Acetate* (Vit-E- antioxidant), Olea Europaea Oil* (Olive), Benzyl Alcohol & Salicylic Acid & Glycerine & Sorbic Acid* (Preservative), Ascorbic Acid* (Vit C), Citric Acid*, Curcumin Longa* (Turmeric), Trigonella Foenum-Graecum* (Fenugreek), *Plant Based
Values
Plastic Free
Fair Trade
Vegan
Septic Safe
Australian Made
Others Also Bought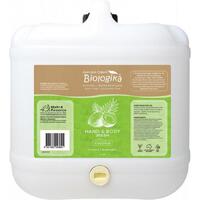 Biologika Hand & Body Wash Coconut
From $20.00
More Info
Enviroclean Hand Wash Lime & Sandalwood
From $18.00
More Info
More From This Category