Econaps Booster Kit - Mixed
Made from soft bamboo and organic cotton, the Econaps bamboo boosters are naturally thirsty to offer that extra layer of protection for bubs. The sleek design fits seamlessly with your Econaps modern cloth nappies without adding extra bulk. It's a little booster that holds a lot! They help make each wear last longer and are particularly useful if you have a heavy wetter or want to make it through the night with one less nappy change.
Mixed bamboo booster kit features:
4x hourglass bamboo boosters and 2x tri-fold night boosters.
Made from highly absorbent, earth-friendly bamboo & organic cotton fleece.
Machine washable.
Designed to fit all Econaps cloth nappies and most other one-size, all-in-2, and pocket cloth nappies.
Come packaged in a gorgeous natural cotton bag.
How to use:
Simply layer the bamboo booster under your existing cloth nappy combination and fit to bubs as usual.
Values
Zero Waste
Fair Trade
Vegan
Reusable
Others Also Bought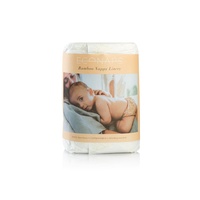 $12.95
More From This Category