The perfect alternative to commercial toothpaste and its completely natural, palm free and fluoride free. This block should last an average of 6mths per person, is non abrasive and you do end up with a mint flavour at the end of your brush.
These are designed to refill the plastic container or you can pop these onto a dish in your bathroom and use them that way.
Ingredients
Saponified oils (coconut, olive, hempseed and cocoa butter), Victorian artesian salt, charcoal, essential oil (peppermint).
Values
Zero Waste
Plastic Free
Fair Trade
Vegan
Palm Oil Free
Septic Safe
Australian Made
Others Also Bought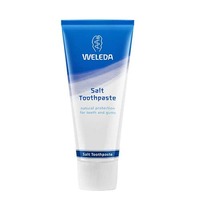 $9.95
More From This Category