These convenient refill packs (made with a minimum 30% post industrial recycled waste) are filled with the dependable hero of Dirt, our 8x eco concentrate laundry detergent. Formulated with 100% pure and powerful plant-based and biodegradable ingredients. It's the cleanest choice; for your clothes, your skin and the environment.
Suitable for washing most fabrics.
Pretreat any heavy duty stains with an extra squirt staight onto soiled fabric, or our stain remover.
Add 4 pumps (14mls) to the drawer of your washing machine. If you have a top loader, add the detergent to the base of your machine before you put your clothes in.
To maximise detergent performance, 40 degrees is the optimal washing temperature.
Ingredients
Nonionic Surfactants, Anionic Surfactants, Alkaline Salts, Organic Enzymes (Updated Blend), Spring Scented Natural Fragrance (Essential Oils: Eucalyptus, Lavender, Basil, Orange, Clove, Geranium, Patchouli and Cedarwood), Preservatives
Values
Fair Trade
Vegan
Septic Safe
Australian Made
Others Also Bought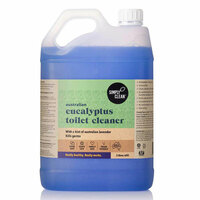 Simply Clean Eucalyptus Toilet Cleaner
From $16.00
More Info
More From This Category